Hi everyone! It's Boxen here. I wanted to tell you about a very strange but wonderful thing that happened here this past month. We got lots of snow!
Here in Dallas Texas it does not snow, ever really, so when we got lots of snow it was really cool. Bella as usual does not like anything wet to touch her unless it is the pool so she hid on the back patio under the very small roof.
Isn't she pitiful!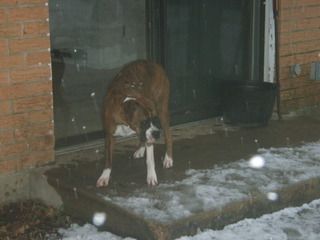 I on the other hand love the wet stuff and especially snow!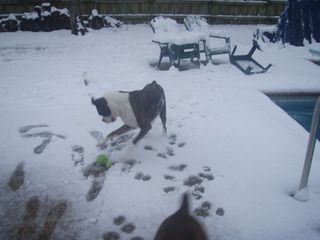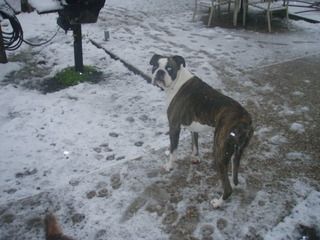 But those pictures were very early when mom just got home. The next day was the fun one! Look how much snow we got!
The diving board had twelve inches on it!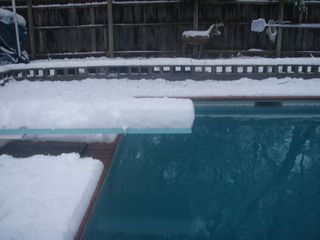 The trees were all heavy and making loud cracking noises from all the weight!
The night before the electricity guys came and trimmed some of the branches out of the way and made a big mess! Can you see it in the background?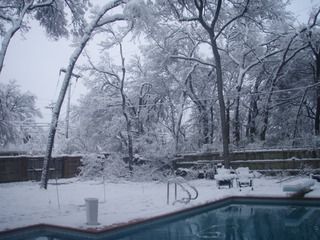 Anyway We had a great time playing after Bella quit being a wuss. LOL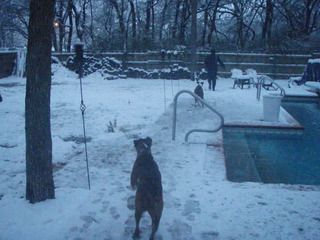 Dad even played catch with me a little!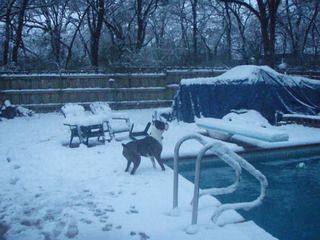 Anyway there were many pictures that did not turn out because our camera is not the best for snow. I hope that you enjoy the ones we have though.
Boxer snuggles
Boxen