This is a transfer from our old blog, Mom made us change the name so she is moving some of her favorite posts from that blog to this one for some of our new friends to see. I hope you enjoy!
Hi everyone it's Bella! Sorry it has been so long, Dad's sisters are in the middle of having their skin babys and we have been really busy. The good news is mom has taken a lot of pictures so we will have a lot to post about now!
As most of you know mom got me this really cool lifejacket to wear while I am in the pool. It turns out I really do need it. I have been romoted to official lifeguard of our pool! There are lots of times when my services are needed. There are lots of tests I had to pass to become the official lifeguard. Here are a few of them...
#1 Mom and dad do a lot of swimming and they love to jump off the loud board at the deep end. This is very dangerous and needs to be very closely monitered. As you can see here my Mom's brother is about to jump...very dangerous. It is my job to watch them as they jump and make sure I do not need to come in and get them.
There is also a slide at this pool! I particularly hate it when mom goes off this slide but I don't really like anyone using it. Here are some pictures mom got of me doing my duty and protecting Dad's cousin. This is very important as well.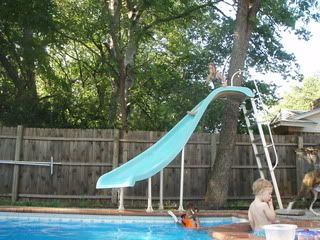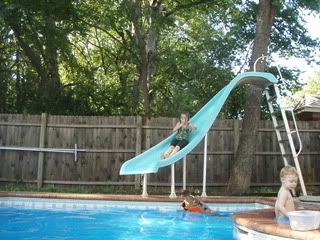 Lastly it is very important that I not be afraid to get into the pool. For a long time I did not like to jump into the pool but I have learned that my lifejacket will not let me sink. Here are some action pictures that mom got of me jumping into the pool. They look just like a real lifeguard don't they?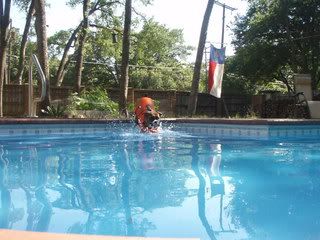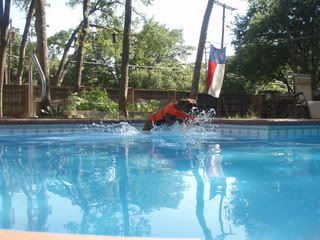 (look I am almost underwater in this one!)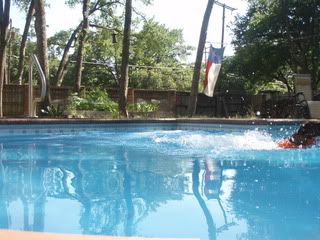 Hope you all understand now how important of a job this is. I am really proud of all my hard work. It is really a lot of fun though.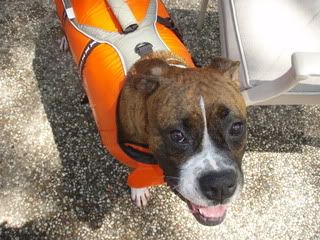 Kisses to everyone!
Bella